[Address]
Minami-Asagaya Building 5th Floor
1-14-2 Asagayaminami, Suginami-ku, Tokyo 166-0004
[Tel]
03-5378-8833
[Fax:]
03-5378-8844
[E-mail]
info@suginami-kouryu.org
[HP]
http://www.suginami-kouryu.org
[Business Hour]
Monday to Friday 8:30 - 17:15
(except for national holidays and yearend/New Year holidays)
10 minute-walk from JR Asagaya station
1 minute-walk from Tokyo Metro Minami-Asagaya station




SACE Leaflet in Japanese


English translation


The Japanese Speech Contest was held on March 4 (Sat.), 2023.
Please see our Facebook page for the details.
Foreign residents living in Japan will make speeches in Japanese about how they felt, what they experienced in Japan, and their home countries.
Why don't you enjoy listening to their speeches?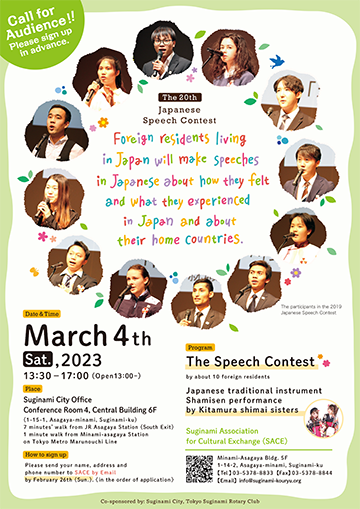 Date & Time
March 4th (Sat.), 2023 13:30‐17:00
Place
Conference Room 4, Central Building 6F, Suginami City Office
(1-15-1, Asagaya-minami, Suginami-ku)
7 minutes' walk from JR Asagaya Station (South Exit)
1 minute walk from Minami-asagaya Station on Tokyo Metro Marunouchi Line
●Please enter from the night time & holiday reception on the
Ome-kaido Avenue. (Through the ramp beside the Mister Donuts)
●Bicycle parking available
●Please use public transportation.
Capacity
100 seats (Apply in advance)
Contents
Japanese Speech Contest
Fee
Free of charge
How to sign up
Send your name, address, and phone number to SACE by Email.
*Please sign up by February 26th (Sun.)
*We will close it as soon as it becomes the capacity.
Inquiries
Suginami Association for Cultural Exchange (SACE)
Tel.: 03-5378-8833 Fax: 03-5378-8844
E-mail: info@suginami-kouryu.org
Sponsored by
Suginami Association for Cultural Exchange
Cosponsored by
Suginami City, Tokyo Suginami Rotary Club