From June 21st, Suginami City sends the COVID-19 Vaccination Notice and the coupon (vaccination ticket) by postal mail to those 12 years of age and older living in Suginami City.
Please read the notice and make an appointment if you would like to receive the vaccination.
The vaccination is free of charge.
When you make an appointment, interpreters are available at the COVID-19 Vaccination Call Center.
The online appointment is in Japanese only.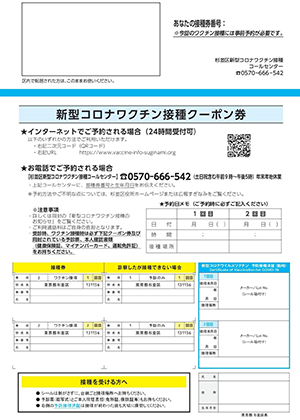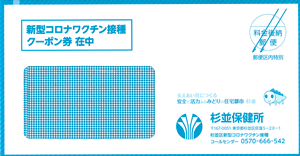 You can read the notice and the Prevaccination Screening Questionnaire in foreign languages.
【COVID-19 Vaccination Notice】
【COVID-19 Vaccination Sites】
【Prevaccination Screening Questionnaire / Instructions for COVID-19 vaccination】
Please refer to the translations on the website of the Ministry of Health, Labour and Welfare. Please fill in the Japanese form.

https://www.mhlw.go.jp/stf/seisakunitsuite/bunya/vaccine_tagengo.html

For the details, please see the COVID-19 vaccination on Suginami City's website.
https://www.city.suginami.tokyo.jp/news/kansensho/covid-19/vaccine/index.html
【Appointments / Consultation】
Suginami City COVID-19 Vaccination Call Center
Interpreters are available.
Tel.: 0570-666-542
Time: 9:00 am - 5:00 pm (Every day including Saturdays, Sundays, and national holidays)